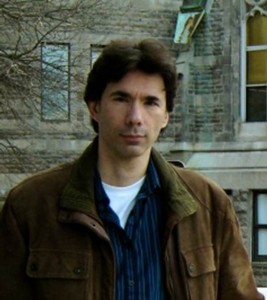 Dr. Anthony Ricciardi is a professor of biology at the Redpath Museum, McGill University (Montreal), where he holds a Quebec Strategic Professorship and teaches courses on invertebrate biology, environmental science, and the ecology of invasive species.  He received his Ph.D. from McGill in 1997 and did postdoctoral work at Laval University (as an NSERC Fellow) and Dalhousie University (as a Killam Fellow) prior to joining the McGill Faculty of Science in 2001.  Currently, he is the Associate Director of Research for the McGill School of Environment.  For the past 20 years, his research has aimed to develop a predictive understanding of the ecological impacts of aquatic invasions.  He serves on the editorial boards of the journal Biological Invasions and the journal Diversity and Distributions.  He is also a member of the scientific committee of the Canadian Aquatic Invasive Species Network.
Selected Publications:
Anthony Ricciardi, Michelle E. Palmer, and Norman D. Yan   (2011)  Should Biological Invasions Be Managed as Natural Disasters? BioScience,  April 2011 Vol. 61 No. 4.
Anthony Ricciardi and Hugh J. MacIsaac  (2011)  Impacts of Biological Invasions on Freshwater Ecosystems.  Fifty Years of Invasion Ecology: The Legacy of Charles Elton, 1st edition. Edited by David M. Richardson.
Stefanie, A. Kulhanek, Anthony Ricciardi and Brian Leung  (2011)  Is invasion history a useful tool for predicting the impacts of the world's worst aquatic invasive species?  Ecological Applications, 21(1), 2011, pp. 189–202.